Trends go in and out of style. What's considered to be everyone's staple in one season, it's frowned upon a couple of months later. Fashionable things and designs come in waves and take the internet, TV shows, and magazines by storm. As a result, everyone wants to emulate them, with varying degrees of success.
However, before you start remodeling your interior according to the latest trends, it would be best first to take care of urgent repairs. After all, you need to ensure everything at your home is functional before you start to follow form. For example, when was the last time you checked your garage doors? You probably open and close them at least twice a day, so it's possible they start showing signs of wear and tear. Luckily, many companies offer garage door repairs for Arizona, New Mexico, Colorado, and any other state you might be in. What about broken window seals and clogged pipes? Do a thorough check-up of your house and assess its condition.
Now that's out of the way, revamping your house could be a great idea. In this article, you'll learn about 6 amazing interior design trends. If you want to know what's going to be in vogue in 2021, keep on reading!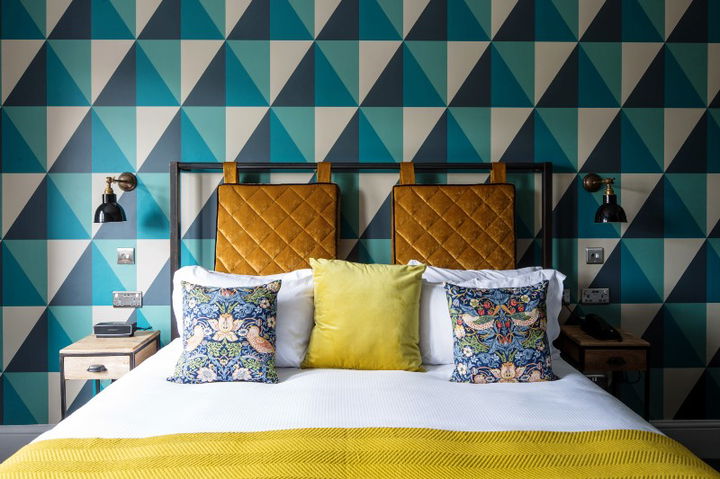 Industrial Style
The industrial style is not for everyone. It involves neutral colors, wood and metal elements, exposed stone or brickwork, pipes, and high ceilings. It's raw, uncompromising, and bold. According to interior designers, this trend is going to get really big in 2021.
Industrial style has a lot of fans. If this esthetic appeals to you, you may want to incorporate at least some of its elements. A good rule of thumb is to use simple yet practical materials. Think neutral or grey color schemes, timber planks as shelving, and lumber pieces or even ladders used to create additional storage space. Rustic pieces and original textures, such as metal, wood, or chipped paint, can also help you achieve the desired effect. You can go big and transform your entire interior, or opt for safer yet still trendy accessories in the industrial style.
Nature and Organic Materials
As you can see, some trends contradict each other. On the one hand, you have the industrial style; on the other, you have natural and organic materials. That's the beauty of interior design – you can mix and match, or opt for one trend only. The result? If you do it right, your interior will be sophisticated and esthetically pleasing.
If you want to bring nature to your home, this trend is perfect for you. After a difficult 2020, people crave to bring some reminders of the exterior life into their homes. Wooden accents, a decorative table made of stones, or a lamp that looks like a tree or a leaf might just do the trick.
Peel-and-Stick Wallpaper
Previous seasons were all about monochromatic interiors with colorful accents on walls. In 2021, these splashes of color are becoming outdated. While neutral tones will never go out of style, another trend makes a comeback – peel-and-stick wallpaper. It's fun, bold, colorful and above all, it's incredibly easy to install.
Peel-and-stick wallpaper is slowly taking over the interiors. It's self-adhesive and easy to remove, which makes it perfect for those who are looking for easy ways to significantly transform their living spaces. If you want to begin 2021 with a bang, start looking for patterns you like the most, and figure out which part of your house would need such an improvement. You don't have to cover the entire room for a dramatic effect, and when you get bored, you can simply peel it off.
Blues, Greens, and Earthy Colors
Every season brings different color trends. In 2021, navy blues, dark greens, and earthy tones will be the most desirable. An all-white interior is safe but boring. For the new year, be more adventurous, and step out of your comfort zone!
The best thing about color trends is that you can go all the way in or choose safer options. For example, you can paint the entire room navy blue and feel great with this change. On the other hand, you don't have to make such a significant commitment – a dark green sofa or accessories in earthy colors could be enough for you. Whatever the case, you'll find many items and materials that will help you make your vision a reality.
Design Styles of the Past
Experts predict that in 2021, some designs from the past will make an epic comeback. These will most certainly include vintage elements and the so-called granny chic, also known as the grand millennial trend.
If that's your kind of esthetic, you may be wondering which items you'll need to emulate it. You can start looking at floral wallpapers, crocheted throws and pillowcases, antique paintings, vintage furniture, whimsical accessories, and many more. Do you want to get back to your family roots and traditions, feeling comfort and nostalgia at the same time? Introduce a blast from the past to your home.
Statement Pieces
Decor enthusiasts love statement pieces. They're bold, incredibly original, and can easily catch the eye of every guest. Almost anything can be a statement piece. This trend includes furniture, accessories, and materials with a luxury touch and unique appearance.
Statement pieces are meant to draw attention and elevate the interior. They set the tone for your space, so it's important to pick something that won't be too overwhelming and tiring to look at. With so many amazing items available on the market, making your mind won't be easy. You'll have the time for that, though – after all, statement pieces are going to be all the rage in 2021, and so far, it's still the beginning of it!
The Bottom Line
There you have it, six amazing interior design trends that will be all the rage in 2021. However, you need to remember that it all depends on your preferences and esthetic values. You don't have to follow a certain fashion and remodel your entire house to be trendy. What's in vogue now may not be fashionable at all next season.
Nevertheless, we hope some of these trends will inspire you to make some changes around your house. After all, that's what they do – help people who are not interior design experts create a more esthetic home environment.
We're sure there's something on our list that caught your attention. If you want to implement some changes in your house, go for it!