The global eco-friendly furniture market was valued at around $35.2 billion in 2019, and its growth will continue steadily in the years leading up to 2027, as found in a report by Grandview Research. Those with an eye for DIY projects or with a vision for the myriad of ways in which pallets can be used to create living spaces and individual pieces of furniture will be pleased to learn that a recent Penn State study has shown that wooden pallets are more sustainable than plastic. The adaptability of pallets is impressive indeed, with many being used to create everything from entryway tables to coffee tables, garden loungers, and even beds for pets. If rustic or wood-based looks are your thing, however, there is one place you might consider placing one or two pallet-based furniture items: your kitchen.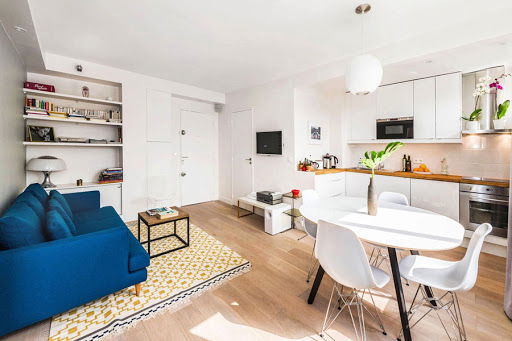 Wall Furniture
Pallets are relatively light yet sturdy – a fact that makes them ideal cup and bottle holders. When building your cup rack, you can divide your pallet into four key sections. Half can be dedicated to bottles (which will need a taller or deeper space – depending on whether you wish to stand them right up or lie them on their side). The other half can have two shorter rows for mugs, cups, and other shorter items. Finally, a top layer connecting the two halves can house just about anything – including plants (think tiny cacti, fresh herbs, or hanging indoor vine plants), décor pieces, and quirky pieces like tiny Himalayan salt lamps.
Herb Gardens
As stated by expert renovator, Jennifer Fisher, biophilic design is one of the hottest trends in the interior design industry, owing to a dramatic rise in the demand for sustainable, natural interiors that blend seamlessly with the green world outside. Wood adds a warm, appealing touch to even modern-designed kitchens, with many renovators asked to create pieces such as wooden stools, or central islands with wooden features. If something smaller like a garden or vertical wall appeals, use free spaces on your wall to grow herbs that can inspire you to emulate dishes by maestros like Jamie Oliver or Gordon Ramsay. The list includes basil, mint, oregano, parsley, rosemary, and chives. These can take up a large vertical space of your kitchen wall, depending on size availability and your individual layout.
A Wooden Pallet Bar Table
If you are an avid gourmet who loves specific beverages such as coffee or chocolate, and you have enough space to create your very own coffee corner, then embracing a pallet-style structure for your bar is a magnificent way to establish a separate gourmet space. You may have a few high-end countertops and islands in your kitchen, but without a doubt, on cold winter afternoons, your bar area will attract everyone for a warm drink and some gourmet chocolate treats. To store items, keep a small fridge behind a bar. For non-perishables, cups and glasses, a wooden glass holder on the wall will complement your table perfectly. If you really want to add to the appeal of the area, consider building three or four wooden seats to place on the widest side of your bar. It will ensure the bar is not just a place to pass through if not one to gather at and connect with friends and members of your family.
If you are keen on embracing sustainability and bringing a rustic, cozy look into your kitchen, pallets can be a great solution – especially if you are creative at DIY projects. Wooden pallets can make quaint cup and bottle holders, herb garden supports, or bars. Of course, the sky's the limit when it comes to ideas, so if you want to include one or two elements in your kitchen, ensure your choices are as aesthetically pleasing as they are practical.