Making something special for your anniversary will show your beloved that you have taken time and effort to create something specifically for them. This could be using pre-existing skills or pushing your own boundaries to create a little treasure from a pallet. If you are looking for some ideas for each anniversary, there is a list of traditional and modern gifts for every year from first to 80th which also includes flowers, colors and gem suggestions.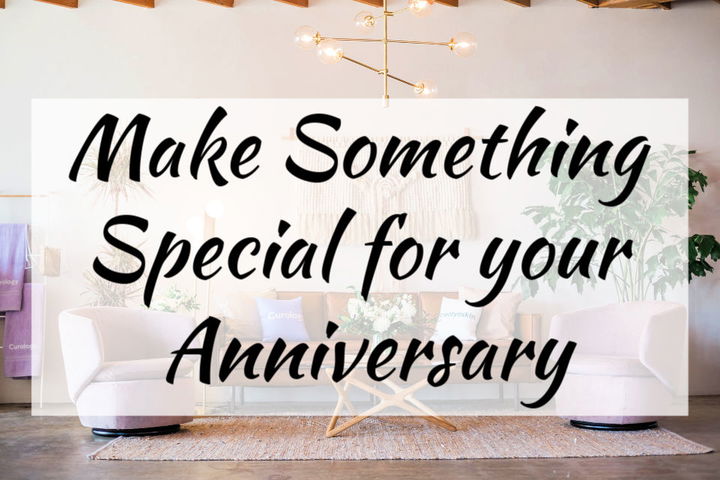 Gift box
Make a gift box from wood, a natural material that represents both growth and durability over time, which makes it perfect for any anniversary. In the anniversary gifts by year list wood is the traditional fifth-anniversary gift. Create a gift box in which you can place a precious token of your appreciation. If you have the skill, include compartments for different items, or design it to hold one specific item.
Furniture
Furniture is the traditional gift for the seventeenth wedding anniversary. Making furniture from pallets can be challenging and is hard work. The challenge comes from the need to separate the pallets first, which means some boards cannot be used because they are cracked or broken. The hard work comes from the sanding.  For more pallet-like furniture that is cut in pieces from the pallet, look online for garden furniture or small shelving units for the home.
Driftwood sculpture
Be creative with a unique piece of art for your home or office. If you are close to a river or beach, you may come across pieces of wood that are very worn out and appear to be unusable, except to be used to burn in the fireplace. However, with some artistic ingenuity, these seemingly worthless pieces of wood can turn into a work of art. A pallet panel can act as the perfect base on which to attach driftwood and other materials such as metal and stones
Pallet panel artwork
Use the boards of a pallet to create a canvas for a painted artwork. Once you have cut the wood to size, you need to sand the wood and apply the first layer of paint as a base coat. Leave it to dry and then sand over the wood again. Then add a second layer of paint and sand again.  This will give you the best base on which to begin your design. If you want the wood to be more rustic, sand and apply just one layer of paint. If you want to have an antiqued look, sand the edges and corners where wear would have naturally occurred.
Flower press
Most people like to keep gifts that have sentimental value. You can make this possible with the gift of a flower press, to preserve the beautiful blooms and the special memories that go with them. You can create your own simple flower press gift by cutting two pieces of plywood in 22 x 30cm rectangles with holes drilled in each corner so they can be tightening together with bolts and wingnuts. Now all you need to do is sandwich the flower between two pieces of paper, changed every four days to prevent browning, and in three or four weeks the flower is preserved.
Wine rack
Have a bottle of wine easily on hand with a wine-rack you can make for your kitchen or pantry. You can make a riddling wine rack in which the bottles are held by their necks. The necks are held at a slight angle, so the corks remain wet, which helps the wine keep longer. You can have a single plank that holds six bottles or a large sheet of wood to hold 15.
Support independent artists
We do not all have the time or the ability to make something special for our anniversary, but a unique gift is still possible to convey your gratitude, appreciate and respect for your beloved. There are many artists who rework, reuse, repaint and refurbish to make something new again. Some artists will recycle whiskey barrels, packing crates or skate decks to have another purpose. From pens to sunglasses to cufflinks, you are sure to find a great gift, possibly from a local artist.